$4.1M raised!
Thanks to your generous support, 44 acres will be protected as parkland.
$6.9M to go by December 1 for a full buy-out.
DONATE TODAY!

We are the Kelly Creek Protection Project of Earth Island Institute.
Now's Our Chance
Petaluma's Scott Ranch property is known for its open meadows and iconic red barns. The land is right next to Sonoma County's Helen Putnam Regional Park.
For years, community members have fought to preserve this environmentally-sensitive and regionally significant open space from development.
Now's our chance. The property owner, Davidon Homes, has agreed to limit – or eliminate – development on the ranch.
With your help, we can raise the funds needed to preserve this special land and make the necessary improvements to connect it with Putnam Park, improving access for Petaluma residents and protecting this one-of-a-kind open space forever.
Our Goal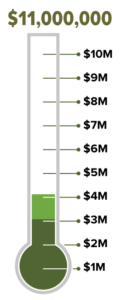 Thanks to community support, we have met our $4.1 million purchase price for the heart of the ranch, wildlife habitat, and Kelly Creek watershed. To extend Putnam Park onto the entire property, we need to raise an additional $6.9 million by December 1.
Please join us!